Guests are spoiled for choice at nosh. With generous themed buffets, delicious à la carte menus, and a welcoming open kitchen setting, nosh serves mouthwatering culinary delights.
Guests can enjoy the cosy setting of the friendly interior or treat themselves to an al fresco meal on the restaurant's terrace overlooking the lakes and waterside walkways. The restaurant boasts an extensive buffet three times a day, that offers variety, live cooking, themed counters, and Mövenpick's popular 'Go Healthy' options.
The egg station, fresh honeycomb and on-demand fresh juice stand are favourites during breakfast, while evenings are an opportunity to try regional specialities, seafood or international fare depending on the night's theme. On Fridays, a fantastic  double brunch buffet packed with oysters, mussels, sushi and sashimi, carving stations, grills and desserts is offered.

Breakfast runs daily from 6.30 a.m. to 10.30 a.m., lunch is served from 12.30 p.m. - 3.30 p.m., and dinner is from 6.30 p.m. - 10.30 p.m.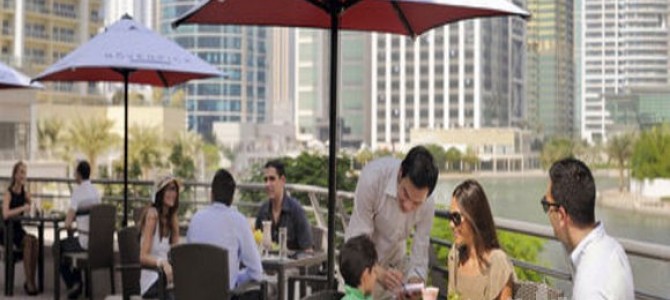 If you are the restaurant owner or manager and would like to edit your restaurant's JLT Dining listing, please get in touch with us here.